Killzone 3 Review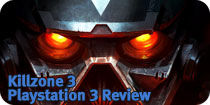 The game's plot (predictable as it is) picks up right after the events of Killzone 2. ISA troopers who invaded Helghan, the home-world of the Helghast - red eyepiece-wearing space Nazis with a major bee in their collective bonnets - have been left scattered and demoralised after the leader of the Helghast nuked his own capital city.

More about Killzone 3
Why not register and have your say?