Dead Space 2 Review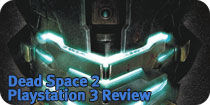 Dead Space 2's plot is far more fleshed out than its predecessor, and is finally led by a character who has a voice. Yes, this time around Isaac has a lot to say, and the voice acting is particularly good - whether it be his screams as he's disembowelled by a pressure door, or a few quiet moments with some of the more interesting characters that pop up along the way.

More about Dead Space 2
Comments
WUD

Posts: 1198

Rank:




11 March 2011 23:42



Why not register and have your say?