Battlefield: Bad Company 2 Vietnam Review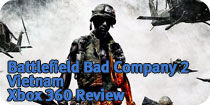 Fire is a big part of Vietnam, and the developers have coded the blazing mechanic very well indeed. Most of the jungle flora can be set alight, and the flame-throwers make an ideal weapon for clearing the myriad bolt-holes and huts which dot the landscape.

More about Battlefield: Bad Company 2
Why not register and have your say?