Gran Turismo 5 Review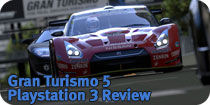 The career mode is just as fulfilling as ever, and the gamer's rise from nobody to racing pro can take hours and hours of tweaking, scanning the second-hand market and ramming any and all comers into the barriers at Silverstone. This is a staple for the series of course, and the wide variety of options to tweak the game's 70+ cars makes the campaign infinitely playable.

More about Gran Turismo 5
Why not register and have your say?