Need for Speed Hot Pursuit Review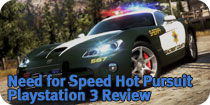 Cruising around looking for an online race is fun in itself, and starting up a session is as simple as cruising up to some traffic lights and hitting 'go'. If, on the other hand, you'd rather get some offline practice in to boost your stats, the AI is clever enough (and often downright sneaky) to cause you some serious trouble.

More about Need for Speed Hot Pursuit
Why not register and have your say?