Apache: Air Assault Review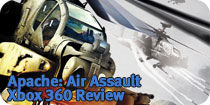 Good flight simulators are few and far between, and on modern consoles even more so - so when Apache Air Assault popped up in the store, I thought it might be worth a go, on the off-chance it actually practices what it preaches - "Destruction and devastation from above." And it does, in spades.

More about Apache: Air Assault
Why not register and have your say?