Assassin's Creed Brotherhood Review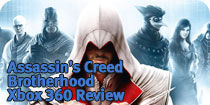 The multiplayer is simply brilliant. There are three modes: Wanted, which is every man for himself, team-based Manhunt and Alliance, which gives you a team-mate to work with. The basic premise is to hunt your assigned target, while evading up to four other Templars assigned to hunt you.

More about Assassin's Creed Brotherhood
Comments
Abstract

Posts: 753

Rank:




06 December 2010 18:48



Why not register and have your say?