WWE Smackdown vs Raw 2011 Review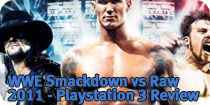 The create-a-wrestler mode is as in-depth and fun as ever, allowing a wily gamer to create just about every type of wrestler ever envisaged. As an experiment I decided to create the world's most terrifying wrestler (of a small stature), and before long found myself facing down the likes of Triple H and John Cena with a midget in spandex tights and a feather boa who had the Undertaker's entrance video - and Big Show's move list. Needless to say, hilarity ensued.

More about WWE Smackdown vs Raw 2011
Why not register and have your say?