Rock Band 3 Review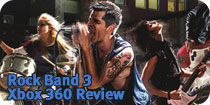 Outside of career mode the online battle of the bands mode returns, allowing you to play with and against other gamers across the world. There is very little lag, and the streamlined interface makes finding willing rockers easier. Finding someone who can actually hold a note while singing though... is very much a challenge. This is especially obvious if you have more than one mic.

More about Rock Band 3
Why not register and have your say?