Medal of Honor Review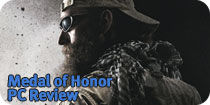 Whilst I couldn't recall a moment when I wasn't staring at a mountain or abandoned clay hut, I couldn't help feel that it was a refreshing change from your very bog standard urban combat with people in bandanna's popping up randomly from windows and bursting out of shanty town doors. It does still mystify me though; that given the lack of detail that is required of setting, you would have thought the game would have lasted much, much longer.

More about Medal of Honor
Comments
Mani

Posts: 6957

Rank:




05 November 2010 16:49



Yupster

Posts: 4

Rank:




06 November 2010 19:13



Abstract

Posts: 753

Rank:




06 November 2010 19:53



Why not register and have your say?