Dead Rising 2 Review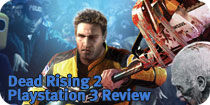 It's been five years since the mall outbreak, and knowledge of the 'mobile deceased' has become widespread. Recently infected humans are quarantined and left to die, and wonder drug Zombrex keeps those bitten from joining the ranks of the undead.

More about Dead Rising 2
Why not register and have your say?