Madden NFL 11 Review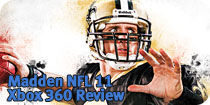 Yes, the players wear armour, but rather than the game playing like a cross between rugby and Gears of War, Madden NFL 11 manages to bring the high-octane action of American Football - and its strategic depth - to the Xbox 360 in true grandstanding form. Unfortunately if you have no idea how to play American Football, expect a learning curve so steep that you'll need an ice axe and pitons to climb it.

More about Madden NFL 11
Why not register and have your say?