Starcraft 2 Review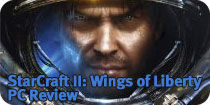 The story picks up four years after the end of StarCraft: Brood War, and centres around the life and times of Jim Raynor - galactic outlaw, revolutionary and all around badass. So badass in fact that he has his own twangy musical accompaniment, and is almost always sat in a pool of shadows - he's that sort of guy.

More about Starcraft 2
Comments
ralinn

Posts: 1971

Rank:




12 August 2010 14:04



Why not register and have your say?