UFC Undisputed 2010 Review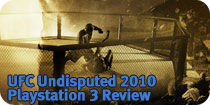 The gameplay itself is largely unchanged from the previous title - in that it's as true a representation of UFC combat as any committed to shiny shiny disk. All the controls are still easy to adapt to, and the added ability to sway from side to side reduces your reliance on blocking, and allows you to land a punishing counter attack with precision and force.

More about UFC Undisputed 2010
Why not register and have your say?