Din's Curse Review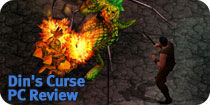 You're dead. Your life was full of boozy parties, depravity and uncaring frivolity, and you paid the price for your philandering with eternal slumber six-feet-under. So, for the champion of the gods, Din, to pick you to be reborn as an ass-kicking, do-gooding warrior comes as a bit of a surprise.

More about Din's Curse
Why not register and have your say?