Battlefield: Bad Company 2 Review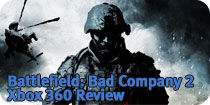 Of course this being a Battlefield game the main component inside the box is the multiplayer, and once again DICE do not disappoint. As well as the familiar Conquest game mode, DICE have bought back Bad Company's Gold Rush, now renamed simply Rush - a fast-paced attack/defend game where unlimited defenders have to stop a limited number of attackers destroying strategic positions, either with demolitions charges, conventional weaponry or by dropping a building on the site - a process made all the easier by DICE's Destruction 2.0 software.

More about Battlefield: Bad Company 2
Why not register and have your say?