Aliens vs. Predator Review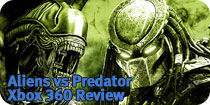 There's a pretty good plot, a tense gameplay style and all the sound effects AvP fans have come to expect - it's just nothing really new, it's all been done before - the game feels like the last two games in a new skin, with slightly tidier graphics and a certain amount of attention to detail. And that is probably both good and bad in equal measure.

More about Aliens vs. Predator
Comments
Stan

Posts: 2696

Rank:




24 February 2010 19:33



Why not register and have your say?