Torchlight Review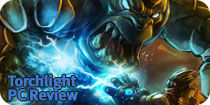 The real game takes place below the town in it's labyrinth of mines. The structure is simple: work your way through the dungeons from the top to the bottom. When you get to the bottom, the story is finished. Every few levels though, the theme of your surroundings changes which does help to inject a little variety into the endless hacking and slashing.

More about Torchlight
Comments
Bri

Posts: 241

Rank:




29 March 2010 14:23



Why not register and have your say?