Army of Two: The 40th Day Review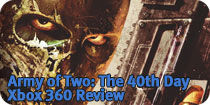 When you have a human fighting with you the game changes, you can work out strategies for dealing with whatever situation the game throws at you, be it an ambush or a hostage rescue, and the return of the 'aggro' meter - which shows you which of the Two the enemies are more interested in killing, allows one player to flank, while the other takes the fire. It's a nicely implemented dynamic, especially with some of the multi-levelled areas you have to pass through.

More about Army of Two: The 40th Day
Why not register and have your say?