Assassin's Creed 2 Review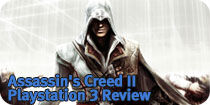 Alternatively, if fighting your way through the guards would not suit the task at hand, Ezio can hire thieves, mercenaries or a small bunch of courtesans (ladies of the night to you or I) and task them with distracting the guards. Or you could blend in with the crowds and strike suddenly as you pass. Or perhaps you could poison a guard, watch him go nuts- distracting the enemy- do the deed and disappear, how you complete the missions is up to you, and it's this freedom which is so engrossing.

More about Assassin's Creed 2
Comments
Abstract

Posts: 753

Rank:




02 December 2009 19:49



ralinn

Posts: 1971

Rank:




03 December 2009 23:40



Why not register and have your say?