Risen Review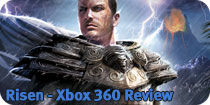 To be fair though, the game does get a little better once you eventually get past the opening half-hour and into the main meat of the plot. The various factions and punters that ply their trades in the towns and villages of Farranga have loads of missions for you to do, ranging from (dozens) of errand-boy 'go here - get that' missions to more interesting raids into temples and dungeons, allowing you to get your hands on some neat weapons and armour, and really customise your character to your liking.
Read the full article,
Risen Review
. By Andy Hemphill on 23-Oct-09

More about Risen
Comments
Mani

Posts: 6957

Rank:




23 October 2009 15:49



Bandit

Posts: 530

Rank:




23 October 2009 20:05



Why not register and have your say?