Blood Bowl Review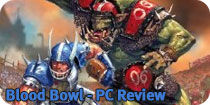 There is very little explanation of what to do, and since my dwarf team were immediately drawn against a team of burly orks, I quickly found out how fast a terrified dwarf can run. It seems like the game was built for die-hard Blood Bowl fans, as the player's introduction to the game is slapdash at best, and there is very little help on offer for the inexperienced player - like me. But, once you've broken through the interminable first few matches, the rules do start to make a bit more sense.

More about Blood Bowl
Why not register and have your say?