Halo 3: ODST Review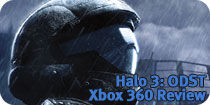 Though ODST originally started out as a short add-on pack, it quickly grew into a full-priced game, and this is reflected in the main campaign. Depending on your difficulty level the game offers a good 5/6 hours of gameplay, and the action of the flashback scenes is sure to make you want to play them again on your own, or with three mates along for the ride.

More about Halo 3: ODST
Why not register and have your say?