WET Review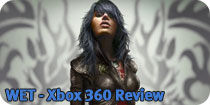 While the acrobatic side of the action is pretty well implemented, and the added 'Rubi Vision' button (which shows what can be climbed/run on/backflipped off) makes navigating the various dingy environments pretty easy, the controls can feel a little bit loose, and it's easy to make a misstep, miss a jump or find yourself stuck in the scenery from time to time.
Read the full article,
WET Review
. By Andy Hemphill on 28-Sep-09

More about WET
Why not register and have your say?