Wolfenstein Review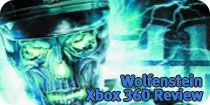 The plot itself is a little flat and very predictable, but luckily the action more than makes up for the weak storytelling and hammy voice action. And there is plenty of action to go around- BJ has to blast his way through an occupied German city, underground mines, temples, a battleship, a castle and loads of other locations, and face off against a surprisingly wide range of enemies, ranging from the usual Nazi cannon-fodder to crazed, shape-shifting scientists, huge armoured stormtroopers, mutants and a couple of terrifying boss fights, which called my gaming reflexes into use time and time again.

More about Wolfenstein
Why not register and have your say?