G.I. Joe: The Rise of Cobra Review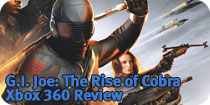 The game is also full of graphical bugs, including dodgy textures, poor mapping and a horrendous camera which flat-out refuses to present the action from a clear perspective, often leaving me shooting at an enemy off-screen, a problem further exasperated by the aiming system, which uses the right analogue stick to switch between targets and often chooses the wrong one no matter how many times you drag the reticule back on target.

More about G.I. Joe: The Rise of Cobra
Why not register and have your say?