PROTOTYPE Review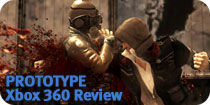 The Oxford English dictionary defines a "prototype" as "An original example from which others are developed." Looking at the latest offering from Radical Entertainment, it should have said: Prototype: "Huge amounts of ass-kicking featuring the most tooled-up anti-hero in the history of videogames" because, as the Americans would say, Prototype's dark warrior, Alex Mercer, is an absolute beast.

More about PROTOTYPE
Comments
Stan

Posts: 2696

Rank:




18 June 2009 00:42



Verp

Posts: 48

Rank:




18 June 2009 12:13



Bigbird

Posts: 156

Rank:




01 July 2009 13:45



Why not register and have your say?