Red Faction: Guerrilla Review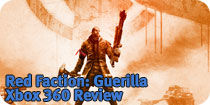 The engine even makes the normally-tedious interception missions fun- I once found that a convoy was going to cross a bridge in about 5 minutes. Parking my dusty truck, I planted charges on the bridge's strong points and waited until the convoy was halfway across, then blew the charges and sent the five vehicles into the depths of a Martian crater. I then realised that since the damage done to the surface of Mars is permanent, I was stuck on one side of the bridge and had to find another way back- nice.

More about Red Faction: Guerrilla
Why not register and have your say?