Halo Wars Review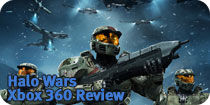 Units on offer include all the usual Halo staples- Warthogs, Scorpions and Marines for the UNSC, Wraiths, Ghosts and Grunts for the Covenant (complete with little screams and plooms of burning methane when they get killed). Also included are the more interesting units, such as the massive Mammoth transport for the UNSC (as featured on the Sandtrap map of Halo 3) and even the ultimate in walking death- the Covenant Scarab.

More about Halo Wars
Why not register and have your say?