The Last Remnant Review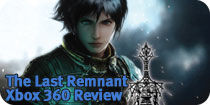 The game centres on the absurdly typical Square Enix character of Rush Sykes, a boy of about 16 with a horrible mewling voice that makes me want to punch him. He is chasing after his sister, who has been kidnapped by some bad guys and ends up being dragged into a massive political battle between a strange entity known as the Conqueror and various factions who are battling for control of the 'Remnants', strange items left on the planet by forces unknown.

More about The Last Remnant
Comments
ralinn

Posts: 1971

Rank:




29 November 2008 13:08



Why not register and have your say?