Tom Clancy's EndWar Review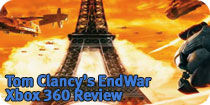 Story-wise, the game is set in the not-too-far future and revolves around the three factions that have built themselves up over the years- America, Russia and the European Federation. Each army has its own individual strengths and weaknesses, such as Russia being good with heavy weapons and Europe being very technologically proficient.

More about Tom Clancy's EndWar
Why not register and have your say?