WWE SmackDown vs Raw 2009 Review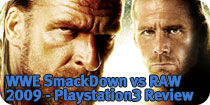 WWE fights are amazing and seeped in panto-esque drama chiefly because they are very carefully scripted to be so. As soon as the behemoths involved start winging it and actually trying to win it simply becomes repetitive and confused. The basic fight mechanic is to punch and kick your opponent until you can lay on a little grapple or wrestling move, thereby stunning them to do something slightly more violent, and so on until their stamina bar is depleted and something unholy can be done to them to knock them out or keep them down long enough to be pinned.

More about WWE SmackDown vs. Raw 2009
Comments
Stan

Posts: 2696

Rank:




25 November 2008 23:17



Why not register and have your say?