Gears of War 2 Review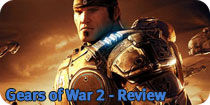 Combat is largely unchanged from the last Gears, and is still as intense and gritty as the previous game. This time there are a few new weapons including a portable shield, a nifty flamethrower, and the addition of heavy yet powerful support weapons such as a mortar and a heavy machine-gun. The lancer machine gun also makes a reappearance, with its attached chainsaw bayonet, but you can now chainsaw a locust from behind (groin to chin) or even team up with another Gear for double the gore.

More about Gears of War 2
Comments
spitch

Posts: 2

Rank:




06 December 2008 00:36



Why not register and have your say?