Monster Madness: Grave Danger Review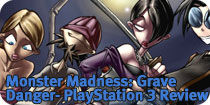 The simplicity of the controls will let just about anyone engage quickly, and the gameplay itself is just as welcoming. Monster Madness, whilst not particularly notable in itself for the individual player experience, is actually excellent friend or family co-operative gaming.

More about Monster Madness: Grave Danger
Comments
Stan

Posts: 2696

Rank:




29 October 2008 00:39



Why not register and have your say?