Spore Review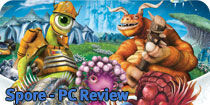 And here we are, the final stage in Spore and frankly the icing on the cake; the space stage! This is by far the biggest and most varied part of the game– a whole universe for you to do as you please.
Read the full article,
Spore Review
. By Grant Wilson on 13-Oct-08

More about Spore
Comments
Bandit

Posts: 530

Rank:




14 October 2008 13:07



Why not register and have your say?