Soul Calibur IV Review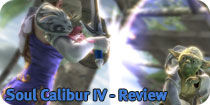 Another addition however is the 'Tower of Lost Souls' mode, which has you fighting your way up and down a tower, facing different enemies on every floor. While this could get a little repetitive, the fact that your health doesn't regenerate much between floors turns the mode into a pitched battle for survival that keeps you on the edge of your seat.

More about Soul Calibur IV
Why not register and have your say?