1942: Joint Strike Review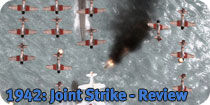 As well as the new weapons, the graphics of the game have also received a major overhaul. They appear slightly cartoonier than in the original, but that is not necessarily a bad thing considering the content of the game. The top-down view is nicely rendered, and from the viewpoint of the two aircraft the ground below your plane is interesting enough but not too distracting.

More about 1942: Joint Strike
Comments
cragtek

Posts: 185

Rank:




03 September 2008 15:33



Why not register and have your say?