WALL.E Review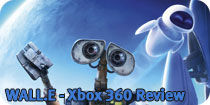 Starting out as Wall-E, the player must navigate the ruined city and make his way around in a method akin to the platformers of old. Wall-E can scrape up and crush debris into cubes that can be used to interact with the environment, such as hurling a crate at a target to lower a platform etc etc. The cubes come in several different flavours: electric, normal and magnetic, and each one interacts with the environment in a different way.
Read the full article,
WALL.E Review
. By Andy Hemphill on 30-Jul-08

More about WALL.E
Comments
Midnight

Posts: 2826

Rank:




31 July 2008 21:18



Bandit

Posts: 530

Rank:




01 August 2008 20:31



Bandit

Posts: 530

Rank:




03 August 2008 22:47



Why not register and have your say?