Belief & Betrayal Review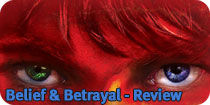 The plot isn't much better. As well as being a terrible rip off of Dan Brown's work, the plot, which revolves around some religious sect that has the answers to life, the universe and everything, makes little or no sense. The characters unravel the story with the aid of long cutscenes and simple pop-up graphics that take ages to play out, and their voices are so grating that I tended to click my way through the cutscenes and read Danter's diary to figure out what I just skipped.

More about Belief & Betrayal
Comments
Stan

Posts: 2696

Rank:




26 July 2008 23:34



Bandit

Posts: 530

Rank:




26 July 2008 23:56



Why not register and have your say?