Don King Presents: Prizefighter Review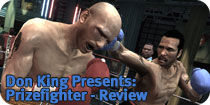 The animation and mapping of the character models is far from terrible, but is by the same token unimpressive. The graphical moments that will stand out are the fairly frequent clipping problems when a forearm will phase right through an opponents head, or an allegedly successful punch will fall noticeably short in what looks to be a parody of bad fight choreography on 70's Star Trek.

More about Don King Presents: Prizefighter
Why not register and have your say?