Civilization Revolution Review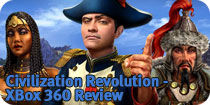 This is 'pick up and play' Civ at its best… and I haven't got to the best bit yet - multiplayer. While the single player is entertaining, the early difficulty levels are too easy and the higher ones too hard. Replay value becomes an issue, which is resolved in part by a Game of the Week feature - a game scenario which you can download each week and compete with other gamers to score the highest single-player score. It's good for a while, but online is where the real fun is to be had.

More about Civilization Revolution
Comments
WUD

Posts: 1198

Rank:




27 June 2008 14:37



Mani

Posts: 6957

Rank:




27 June 2008 14:44



Bandit

Posts: 530

Rank:




27 June 2008 20:46



Why not register and have your say?