Ship Simulator 2008: New Horizons Review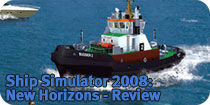 I was wrong, by the way, about a possible multiplayer option being a benefit to the game. Having sailed the seven seas online (I encountered ONE other player), I can confirm that it is just as tedious as playing offline, only the ship that was before controlled by the AI (I say "controlled", they just go in a straight line not avoiding players) now is trying to ram into the side of you in a desperate attempt to create a bit of fun and hi-jinks. It's sea-based dodgems - ten minutes of fun at the most.

More about Ship Simulator 2008: New Horizons
Why not register and have your say?