BOOM BLOX Review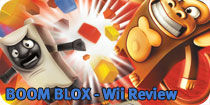 Both the single player and the multiplayer challenges suffer from one essential flaw - that the game designers reach has significantly exceeded their imagination. For around the first 50 of the 300 levels, there is intelligence and humour in the level design, encouraging the player to think through their actions, anticipate the tumbling chain reactions, and perform Brain Surgeon calibre feats of steady-handedness.

More about BOOM BLOX
Comments
Mani

Posts: 6957

Rank:




16 June 2008 10:21



Why not register and have your say?