Secret Files: Tunguska Wii Review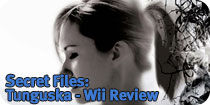 Step into the shoes of Nina, daughter of Professor Kalenkov who in the tradition of many a paternal Russian scientist manages to get himself kidnapped before the title credit even pops up. The cops are completely uninterested, so its time to start pointing, clicking, gathering and combining utterly unrelated items, enlisting a sidekick/romantic interest and generally engaging on Tunguska: Quest for Dad. Prepare to thrill to international locations including artic tundra, ancestral castles, Russian torture dens, asylums and unfriendly Irish pubs.

More about Secret Files: Tunguska
Why not register and have your say?