The Spiderwick Chronicles Review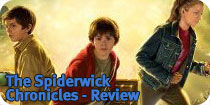 Alas, about 30% of the way through the game, when you start having to spend serious amounts of time as any of the other siblings, the interest very rapidly stagnates. It exactly this point that the competent sets copied from competent set designers are no longer enough, the bad guys are more abundant and as such their very limited variety becomes clear, and the poor overall balance becomes clear.

More about The Spiderwick Chronicles
Comments
Mani

Posts: 6957

Rank:




17 March 2008 14:38



Why not register and have your say?