Depths of Peril Review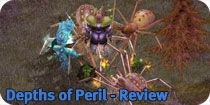 The overall objective of the game is to destroy or absorb all the other covenants and become the ruler of Jorvik, and this can be done in several ways. You can raid the enemies' covenant house and destroy their lifestone, ally yourself with them and gradually usurp their influence or manipulate them into submission with dodgy deals and rumour spreading.

More about Depths of Peril
Why not register and have your say?