Evil Days of Luckless John Review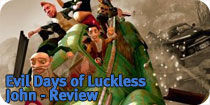 Throughout John's less than exciting adventure, you will occasionally be called on to use a Tommy Gun to shoot at Mafia brutes, or throw a brick at some scaffolding, or sneak past a prison guard, or drive your way to freedom in a car chase. And while the developers had the best of intentions, the whole idea just doesn't come off.

More about Evil Days of Luckless John
Why not register and have your say?