Escape from Paradise City Review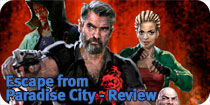 The concept of Paradise City is you play one of three criminals, all plucked from death row or a life sentence by the mysterious government agency who is none too happy about the shadowy organisation now pulling the strings in lawless Paradise City. Yes, it is the plot of XXX or La Femme Nikita or even the Dirty Dozen really.

More about Escape from Paradise City
Comments
Mani

Posts: 6957

Rank:




12 November 2007 23:56



ralinn

Posts: 1971

Rank:




13 November 2007 01:13



Why not register and have your say?