Requital Review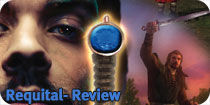 Try to stray off the main paths through the wilderness, though, and you're confronted by a veritable army of invisible walls that stop you from going about 50 feet beyond the main thoroughfare. Any fantasies of roaming the land as a mad, angry adventurer bent on revenge are quashed when you descend into the forest and find that you can't actually go anywhere. Also, compared to the global-scale environments of titles like World of Warcraft or Oblivion, the world of Requital feels more like a village: there's only about 10 destinations with little space to manoeuvre outside of these.

More about Requital
Comments
Mani

Posts: 6957

Rank:




10 November 2007 11:15



Sinna01

Posts: 55

Rank:




10 November 2007 19:19



eNTi

Posts: 3

Rank:




15 November 2007 02:22



Why not register and have your say?