TimeShift Review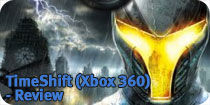 In a word, the time powers offered by Timeshift are spectacular, the days of hiding behind barrels are over for the owner of a timesuit, why hide when you can pause time, sprint to the enemy's position, shoot all of them in the head, and then un-pause time and watch them all crumple to their knees. And stealing a gun off an enemy never gets dull, pause time, dodge the tank shell, press X to take the gun from them and then watch them stand there asking "What? Where's my gun?" before shooting them in the head.

More about TimeShift
Comments
Mani

Posts: 6957

Rank:




12 November 2007 23:56



ralinn

Posts: 1971

Rank:




13 November 2007 01:10



Why not register and have your say?